5 Reasons You MUST Have Isopropyl Alcohol in Your House
Author: Briony Maitland Date Posted:8 February 2018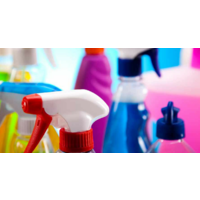 If you've never heard of Isopropyl Alcohol, it is a solvent based product that is considered to be a cleaner's dream, commonly known as rubbing alcohol. The endless uses of Isopropyl Alcohol make it so popular for household users. So what is so good about Isoropyl Alcohol? Here's 5 reasons:
Disinfectant-steriliser-anti-bacterial cleaning agent – Isopropyl Alcohol kills bacteria, fungus and viruses. Used to disinfect medicinal objects, prevents the spread of disease, and is commonly used to kill germs on all household surfaces. Isopropyl Alcohol 100% is recommended for cleaning purposes.
Stainless Steel Cleaner – removes all traces of finger prints in one wipe, and its high evaporation means that it has a streak-free finish. You can pretty much wipe down all surfaces to kill germs, and have a shiny new surface. Isopropyl Alcohol 100% is perfect for cleaning stainless steel surfaces as it evaporates quickly leaving no smudges.
Can't get those windows clean? Isopropyl Alcohol 100% will do the trick, spray and wipe and it comes up clean and streak-free. Just like with stainless steel, Isopropyl Alcohol 100% leaves no smudges!
Removes mould from blinds - to kill unwanted bacteria and germs, leaving the blinds sparkly new. You can also remove sticky residue like sap or chewing gum from surfaces and hands. For killing and removing mould, we most recommend Isopropyl Alcohol 100%.
Rubbing Alcohol – if you are needing to disinfect or kill bacteria on the skin, Isopropyl Alcohol 70% is recommended. The Isopropyl Alcohol 70% strength is perfectly diluted to kill bacteria without being too harsh on the skin.
Now, this is only the start of the uses of Isopropyl Alcohol, we learn new uses from our customers every day but these are among the most popular. If you are wondering if you can use Isopropyl Alcohol for a specific use, not a problem we are here to help. Give us a call on 02 4722 5060 or email us with your query at sales@sydneysolvents.com.au
If you are trying to decide between Isopropyl Alcohol 100%, Isoropyl Alcohol 99%, or Isoropyl Alcohol 70%...check it out here.
---
---
Comments (1)
Clean up a stain

By:

Judy Dixon

on 7 April 2019

Will Isopropyl clean a wool carpet that has coconut oil splashes .?
---
Leave a comment