What is the difference in the percentages of Isopropyl Alcohol?
Author: Sydney Solvents Date Posted:14 March 2018


Have you noticed that there is a whole range of percentages of Isopropyl Alcohol, like 70%, 99% and 100%? We know it can be confusing to choose between them, so we are here to help...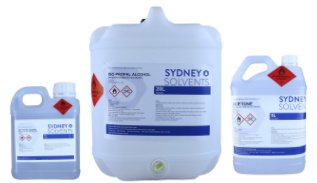 Sydney Solvents sell the best range of Isopropyl Alcohol from 70%, 99% to 100%. It is important to understand that a lot of sellers on the market will dilute their product down with unrefined products, causing impurities within the Isopropyl Alcohol, whereas Sydney Solvents ensures our IPA is consistently high quality.
When discerning the difference between the varying percentages, the main factor to consider is the difference in the moisture content and the strength of the Isopropyl Alcohol. This is important to consider prior to application as different applications of IPA require different strengths. A higher moisture content means that the evaporation process is slowed down, whereas the highest percentage of 100% evaporates off very quickly leaving little to no residue.
Here we break down each of the percentages
Key features:
Higher strength
Will evaporate off the surface quickly
Useful for cleaning applications
The higher percentages of Isopropyl Alcohol are used for cleaning purposes like disinfecting, window cleaning, stainless steel cleaner, killing bacteria, as well as many other uses. The higher the percentage, the greater the evaporation rate, meaning that it dries faster. The high grades of Isopropyl Alcohol 100% are suitable for the majority of IPA uses and is commonly used by industrial users and cleaners.
Great for:
Disinfecting hard surfaces - kitchen, bathroom and laundry
Sanitising and cleaning makeup brushes
Cleaning glass and windows
Cleaning computer, mobile and tablet screens
Key features:
Higher strength
Perfect for 99% Isopropyl formulations
Great for cleaning
What's the difference between 99% and 100%? We get asked this question a lot. The difference is just the 1% of added moisture content. This is of importance for specific chemical formulations which specifically require 99%. It is often recommended that you use 100% instead of 99% unless it is specified otherwise. However, 99% has similar features and functions to 100% in the fact that it cleans and disinfects a variety of surfaces, evaporating off quickly.
Great for:
Specific chemical formulations
Laboratory use
Key features:
Higher moisture content
Stays on surfaces longer, so it has time to kill bacteria
Used as a rubbing alcohol for skin
Another common percentage is Isopropyl Alcohol 70%, which is the grade recommended for rubbing alcohol when applying it to the skin. The lower grade of Isopropyl Alcohol 70% means that it is not as harsh to the skin, but it is still effective. The lower grade is also great for getting rid of bugs on plants as well as disinfecting as the water content mixed with the alcohol fights against growing viruses and fungus.
The reason you would choose 70% over 100% when it comes to killing mealy bugs is that the higher moisture content in the rubbing alcohol means that it will stay on the bugs for longer, allowing it to work over time and kill the bugs.
So which one should you get?
No matter what the percentage, Isopropyl Alcohol 100%, Isopropyl Alcohol 99% or Isopropyl Alcohol 70% are beneficial products to have in any workplace or household. The amazing variety of uses it has makes it a handy product to have around. If you're cleaning electronics, cleaning hard surfaces or disinfecting medical equipment get either 100% or 99%. If you're using it as rubbing alcohol for the skin or spraying plants, use 70%. The required percentage will depend on your application, if you need help or have any questions feel free to give us a call on 02 4722 5060, and we will be happy to help out.
---
---
Comments (1)
Mr

By:

Heath Charsley

on 20 January 2021

Which percentage would be the best for adding to solvent printing inks to thin the ink out.?For printing onto flexible packaging.?
---
Leave a comment