Our version of Wet and Forget - Lazy Man's Mould Control
Author: Sydney Solvents Date Posted:12 September 2017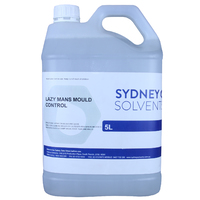 Lazy Man's Mould Control does all the work for you. Leave and let our product do its work.
Lazy's Man's Mould Control is our version of Wet and Forget.
It is an effective cleaner in removing built up mould by simply leaving it on the problem region, and letting it work its magic.
Our mould remover also works as a sanitiser in killing mould, and unwanted odours. In this case, dilute the product down and spray on the areas as it is highly concentrated.
You can use our Lazy's Man's Mould Control on:
Bathtubs
Bathrooms & Tiles
Walls
Sinks
Out Door Furniture
Showers
Kitchen surfaces
Our range comes in 1 litre, 5 litres and 20 litre sizes.
Use our product today for amazing results!
---
Leave a comment